Video, tech and Internet for social good: Panels to pick at SXSW 2016
Every year, what's new and notable in the world of technology and the web gets discussed at the annual SXSW (South by Southwest) Festival in Austin, Texas. The upcoming SXSW conference takes place in March 2016, but they're already soliciting public input on what to feature.
For folks planning to attend this year, we've pulled together a quick list of panels that look intriguing to us in the areas of human rights, social justice, video, and tech (and if you have other recommendations for interesting panels, please add them in the comments field below).
Like one, two, or a few of the panel proposals you see here? You can tweet, repost, comment on, and, most importantly, vote for them!
In short order…
Live! Camera! Action! Livestreaming that Matters
Our own session proposal is all about the use of livestreaming for good. More about the panel:
Livestreamed video is now center-stage. Activists have used live video for a number of years – in Occupy, Brazil, Gezi Park and elsewhere. And now the tools are available to many more people via Periscope, Meerkat and others. What's the secret sauce of livestreamed video for social good? What are the experiences of how it changes situations and reveals truth? What are the dangers? And what comes next as live blends with VR and immersive, ubiquitous mobile and the on-demand economy? Through vivid stories, concrete tips and provocative speculations on the future, come explore how the experience of "being there", and participating alongside frontline activists, translates into social change.
Sound interesting? Want to hear from WITNESS in Austin? Then please cast your vote or tweet us out for Live! Camera! Action!: Livestreaming That Matters here: http://panelpicker.sxsw.com/vote/48906
***
Elsewhere there are a couple of panel proposals that pick up on current debates revolving around bodycams, surveillance, sousveillance and protest (to see WITNESS' perspective on these issues take a look at my colleague Morgan Hargrave's op-ed and our work in the WITNESS Media Lab on bystander evidence, and in our video as evidence work globally)
Policing Protest From Stonewall to Ferguson
2 movements. 2 landmark stories of community uprising. We examine the impact of privilege, police militarization and the media on the effectiveness and response to the LGBT movement juxtaposed with #BlackLivesMatter. From the Stonewall Riots in 1969, a violent demonstration in response to police brutality, to legalization of same-sex marriage in 2015, the LGBT movement was on a relative fast track. We explore the special sauce that led to this success. In Ferguson, Staten Island, Baltimore, etc etc etc, police actions were subject to accountability by a powerful hashtag and maybe a smartphone, but those demonstrations experienced a very different reception from media and legislators.
And from our friends at Videre, Oren Jacobovitch is on this panel:
Surveillance, Sousveillance and Body Cams
From the televised video of Eric Garner's death in a policeman's chokehold ("I can't breath") to footage showing the shooting of Walter Scott at a routine traffic stop in Charleston, smartphone cameras are transforming the balance of power between citizens and state. More than 200 years after Bentham's Panopticon, a forceful metaphor of an all-seeing centralized power, citizens all over the world are turning the tables, deploying cheap, forceful technologies to watch the watchers. In this session, Oren Yakobovich, an activist distributing hidden cameras to individuals subjected to human rights abuses, discusses the implications of body cams with Omer Tene, a privacy expert.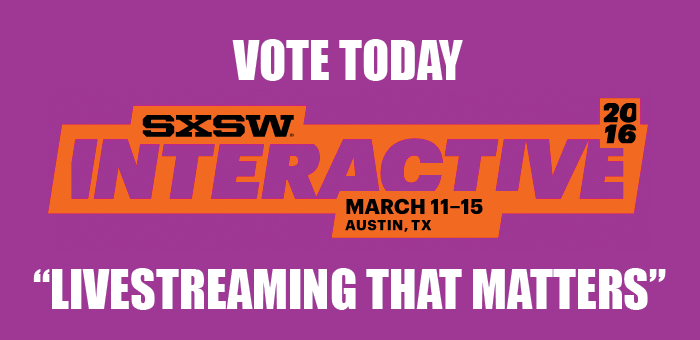 ***
There are a number of sessions on video and advocacy; we'd particularly highlight this one from New Media Advocacy Project and some other interesting colleagues.
Strategic Storytelling: Video As Policy Changer
Today's criminal justice reform movement tends to advocate in broad terms, using hashtags such as #blacklivesmatter and #endmassincarceration to raise public awareness of critical issues. However, advocates can't ask legislators to simply "end mass incarceration"–a more targeted approach is needed to reform entrenched policies. Our session will explore how advocates, visual storytellers, lawyers, and artists can combine expertise to unravel the web of policies and practices that create an inherently unfair criminal justice system for poor people and minorities. Using recent innovative case studies, we'll consider social impact storytelling strategies with the potential for broad scale.
***
Much of WITNESS' work on technology advocacy happens in the context of the web we have now, and the web we want, and the role that the consumer technology companies play in supporting or hindering this. So we'd like to see these sessions:
Embedding Human Rights in the Internet
The internet is an incredible resource and tool for human rights activists worldwide. Yet the open internet needs engaged technologists, developers, designers, and engineers to ensure the advancement of freedom of expression and privacy remain embedded at all of its layers – from core protocols to applications and services. In this session, we will address how technical protocol standards can be used to build human rights into the core structure of the internet, how applications can be built on top of this foundation, and how activists are using these tools to advance their cause.
Designing the Internet of Things for Privacy
It's not just smartphones anymore – everything from our watches to our refrigerators can be connected to the Internet today. But will companies want to use our heart rates to show us ads? Will insurers be interested in how much ice cream we eat? As the devices we use every day fill with sensors and gain new connectivity, they become far more useful. But they can also collect new kinds of information – about our most intimate habits and interactions – multiplying the privacy challenges for companies and consumers alike. Traditional ways of explaining privacy choices don't always work in this space. To win loyalty and avoid costly mistakes, a new approach to privacy by design will be key.
Google, Twitter & Reddit-Takedowns, Tools & Speech
What's the future for content distribution, creativity, and social and political connection? Many of the most important decisions about content, access, and speech are now concentrated in the hands of a few private platforms like Google, Twitter & reddit. When are current events too violent? When do posts cross the line into harassment? What's the right balance between takedowns and user tools? Who should be the deciders and how do you get your voice heard when you think content should be taken down or put back up? Join the policy experts from Google, Twitter & reddit and the ACLU's Nicole Ozer to discuss what's happening now and debate the future of content distribution and free speech.
How to Fight ISIS without Breaking the Internet
The Islamic State has mastered social media. Democracies are struggling to fight ISIS without violating core civil liberties. Politicians from Washington to Paris have proposed laws requiring tech companies to monitor users, report on apparent terrorist activity, and censor terrorism-related content. How should the tech community respond? How do Internet companies keep themselves from being a tool for terrorist recruitment and planning without censoring and surveilling users in ways that will also stifle journalism, activism, and heated policy debate? Our panelists debunk myths and offer alternative approaches and core principles on which to build solutions.
And finally a wildcard!
Human Rights Tattoo-The One You'll Never Regret
How can an online community change the world? Human Rights Tattoo, an art project by Dutch artist Sander van Bussel, has awoken an online movement of 6773 people world wide who, empowered by their Human Rights Tattoo, strive to change the world. Human Rights Tattoo is challenging people all over the world to have a single letter of the Universal Declaration of Human Rights tattooed on their skin. By tattooing the complete Declaration of Human Rights, letter-by-letter, on 6773 individuals, Human Rights Tattoo creates one of the biggest living community art works worldwide of 6773 human rights ambassadors FOR LIFE. Meet the community of Human Rights Tattoo and be challenged to be part of it!
We hope to see you at SXSW in 2016!
Sam Gregory is the Program Director at WITNESS. Sam also leads on the Technology Advocacy program and the Mobil-Eyes Us initiative. You can follow him on Twitter @SamGregory.